Wooing Past Employees to Your New Company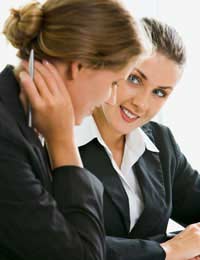 You're thrilled. You've been named the new sales and marketing manager for one of the best companies you can imagine. The pay is terrific, the benefits and perks are phenomenal, and the challenges are exactly what you wanted. Now if only you could entice some of the sales and marketing pros you worked with at your last employer to move to your organisation, everything would be perfect.
But is that legal? Ethical? Practical?
First, know that wooing former employees isn't an uncommon practice. In fact, many businesses count on amassing the most proficient teams by such word-of-mouth advertising. After all, if you're an amazing sales and marketing manager and you have the power to woo other equally fantastic sales and marketing professionals, it would make sense for a company to want those other employees' skills as well as yours.
With that being said, you will have to walk a bit of a tightrope. Chances are good that your previous employer may not be pleased that you left the company (even if they understand why you chose to leave.) And if there are bad feelings between you and your former bosses, you could end up creating quite a stir if their employees "jump ship". Of course, your former colleagues' lives are up to them; consequently, if they want to make a career move, there is little an employer can do about it.
Thus, you're in a tricky spot, but it's not one that's impossible to handle. Try all or some of these techniques for wooing former colleagues to your current company without being underhanded or sneaky. (But first ask your current company if there is room for the new employees, of course!)
PLANT SEEDS: Take a former employee or co-worker out for lunch, coffee or drinks. Ask him or her if he or she has thought about making a switch in employers. If he or she shows an interest, start talking about the benefits of working at your company. Don't go overboard and don't disparage your previous employer (after all, he or she still works there!) Just discuss ideas—nothing concrete need happen during this get-together.
- STAY IN TOUCH: Perhaps you're not in a position to speak with former colleagues face-to-face (as may occur if you're in training or on the road quite a bit). In that case, do drop previous colleagues an email or give them a quick phone call now and then. Mention any job openings (even anticipated or possible ones) at your current employer whenever the opportunity arises. Don't be pushy, but keep your friend "in the know".
- BE DIRECT: If you're really serious about wooing a former sales or marketing colleague to your organisation (especially if he or she was incredibly talented), why not invite him or her to your company for a casual visit? Give him or her a quick tour and introduce him or her to your new co-workers. Don't be secretive—tell him or her that you need someone of his or her caliber on the team.
SIDE NOTE: No matter what way you try to encourage your former employees to move to your new organisation, NEVER:
- Force him or her or use any kind of direct or indirect coercion tactics.
- Tell him or her you will expect him or her to bring sales clients to your current employer.
- "Badmouth" your former employer.
- Make your previous co-worker feel "guilty" for not taking you up on your offer.
You might also like...