How to Interview Sales & Marketing Personnel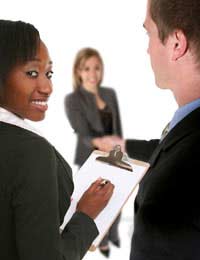 Congratulations—you've been made a sales and marketing manager. As part of your new responsibilities, you can count on eventually interviewing (or participating in the interview process of) sales and marketing personnel.
Even if you've never been on the interviewer side of the interview process before and you're a little concerned, rest assured that it's within your capabilities to conduct a comprehensive search for the perfect candidate.
Writing a Job Description
The first aspect of seeking out new employees usually means creating a job description. If you're working for a large company, you may find that a job description for the sales and/or marketing staff position opening already exists. However, at smaller organisations, you may discover that you'll be expected to write the job description entirely or partially by yourself.
Not sure how to do that? Find job descriptions for positions similar to the one available within your department. Then, use those job descriptions as a guide. You should also check in with your human resources department and upper level executives to ensure that you've covered all the duties of the job.
Evaluating CVs
Once your job description has been written and accepted, it should be advertised as needed. (Hint: Try internally posting it first; you may discover that there are candidates from within your own company who would be interested in applying.) From that point, you should begin to receive a stream of covering letters and CVs (or resumes).
As you read through the applications, look for candidates who most closely possess the requirements for the job opening. Then, put their CVs and information aside. After several days, go through that pile again and pick a handful to interview. Remember that although it would be nice to interview as many as possible, you should start with just a few. Conducting more than 8-10 interviews for a personnel position will probably result in a waste of your time.
(Note: If you find that your original candidates don't impress you, it's always possible for you to return to your original collection of CVs to see if there are candidates you overlooked and thus may wish to interview.)
Conducting Interviews
After you (or an administrative assistant) have scheduled your interviews, take at least an hour and compose some questions you want to ask during your discussion with candidates. Really plot a course of action; otherwise, you could end up finding out very little about potential employees.
Good questions to ask include:
Why are you leaving your current employer?
Why do you want this position?
What about this position interests you?
What unique skills can you bring to our company?
Can you show me examples of your work?
When did you last have to work on a challenging project with a tight deadline? Tell me about the experience.
What interests you most about sales and marketing?
What are your future career goals?
What questions do you have for me about the position or our organisation?
*if applicable
During the interview with candidates, write down answers to the questions. Make eye contact with candidates, too. Observe their body language… Are they moving around a great deal, as in fidgeting? Do they seem confident? Do they seem genuine and enthusiastic?
After you've interviewed your pool of candidates, you'll probably want to either a) conduct second interviews with the crème-de-la-crème; b) interview more candidates; or c) choose your new employee. For the purposes of this article, we'll assume that you've chosen "c".
Making Your Choice
Again, take your time when you get to the point of picking your winning candidate. Ask yourself many questions, including, "Is this someone who will fit in with and contribute to our sales and marketing team?"
Many managers fear this point in the interview process, as they don't want to make the "wrong" mistake; however, if you've been diligent throughout the interview process, you have little reason to fret over picking a final candidate.
Good luck with your job search and your new employee.
You might also like...
I like your explanations and the guides. I will follow up. Thank for your support..
Mazhar
- 9-Oct-11 @ 9:19 AM