Sales Tactics in a Financial Downturn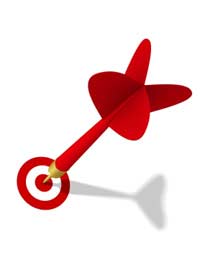 In an economic downturn getting your sales tactics right can mean the difference between survival and a business going under. Unfortunately no-one can tell you exactly which sales tactics will work, since the crystal ball hasn't yet been invented.
But there are sound principles that can be followed. Couple these with today's almost instantaneous sales figure availability, thanks to computers and networks, and you can keep a close eye on the success or failure of the tactics you choose to follow.
Checkout Your Pricing
The first step is to make sure that your pricing is right, and you costs are under control. Perform regular competitor analysis, even if it means going into competitors shops with a pad and pen, to make sure that you are cheaper than the people you consider to be your closest competitors. The internet makes this easier as many companies' prices can be checked on their websites or their retailers' websites.
Of course, competing on price will herald a price war, and that's when you need tight control on your costs. If you start selling products for less that it costs you to but or make them, then you are on a slippery slope. It's fine to sell at a loss as long as you believe you will gain in the long term, perhaps by driving competitors out of business.
You must not only have the funds to see out the battle, but also know exactly what your cost base is, including hidden costs. Otherwise you could be in for a nasty shock after a couple of months of exchanging price cuts with your rivals.
Using Special Offers in a Financial Downturn
Special offers will also attract new or returning customers, as long as they have real value. Offering a discount on a product to customers who buy large quantities will work but any business worth its salt will be doing that already.
Consider offering free products in one category to customers who buy products in a different one. This might induce customers who but one product or group of products to start buying in a different category. But don't make them too different or people will simply lose interest.
Should You Carry On Advertising?
In a financial downturn it's tempting to drop marketing and advertising activity to cut costs. But in most cases dropping those activities will hurt sales too, so you need to be aware of your cost of sales.
Using business IT systems you can turn down the advertising and then check the affect in sales, if you are still making a profit at the lower sales volume, or even more profit, then you can consider keeping it their.
Beware Shrinkage
But lower volumes of sales, even more profitable sales, will still hurt the company long term as the company will begin to shrink. If you need the volume of sales to sustain your infrastructure then in time you will have to start cutting back.
If your competitors cut back on marketing and advertising and you have the guts to stay in there then when the financial downturn begins to reverse you will be the one in the stronger positions.
You might also like...