Creating a Supportive Sales & Marketing Team Environment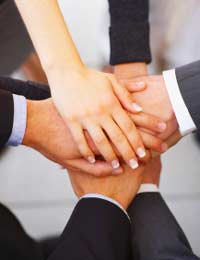 Employee turnover is common in the fields of both sales and marketing; consequently, sales marketing managers need to creative a working atmosphere that's supportive and enjoyable in order to lower attrition as much as possible.
Whether you're new to sales marketing supervision or you've been in the field for quite some time, you have to stay on top of your game when it comes to ensuring that every day is productive and pleasant for everyone in your charge. Below are five exceptional ways to keep your department(s) on track and in top shape (which will in turn do wonders for your employee turnover rate and budget!)
1. Get to Know Your Colleagues/Employees
One of the biggest complaints many workers have is that their bosses have no clue who they really are. Certainly, they know what their roles are in the workplace, but they don't seem to care about who they are outside of the office.
Although it isn't necessary in all industries or departments, it's fairly important for sales and marketing personnel to feel that they are looked upon as individuals, not drones. After work get-togethers or departmental luncheons may provide the perfect opportunity for people to feel that they are seen in a well-rounded light by their managers and peers.
2. Have Regular Meetings… But Not Too Many!
Meetings are important, but not every issue demands a meeting! If you've been over-meeting, your employees will begin to tire of the process and find every week to be dull and predictable. Additionally, they'll give less and less of themselves to each meeting.
Learn when you truly need a meeting as opposed to when results can be accomplished via email or even a quick discussion by the copy machine. That way, you won't be sabotaging your employees' work time or squelching their enthusiasm.
3. Learn All You Can about the Sales/Marketing World… Then Share Your Information
Good sales and marketing managers understand sales and marketing principles. Then, they share what they know with their employees. Conversely, poor sales marketing managers keep what they know to themselves. (Strangely, many feel that if they tell what they know, they'll weaken their positions. The reverse is actually true.)
Go to conferences, read books, order magazines and educate yourself. That way, you can become the best teacher and trainer your sales and marketing staff could possibly have. And who would want to leave your company's employ when they have such a devoted mentor onsite?
4. Be Flexible—To a Point, of Course
Employees aren't inanimate objects nor are they children. Therefore, they need to have some measure of flexibility and freedom.
The more freedom you can give your subordinates (within reason and only if they have been serious employees), the less they'll feel that you're "cracking the whip"… and the less they'll feel like moving on to a new employer.
5. Make Your Department(s) a 100% Pleasurable Place to Work
Finally, give yourself one huge goal this year—to make your sales and/or marketing department the best place to work in your company.
Offer regular incentives, celebrate successes as a team, give out small awards, allow for spontaneity (when appropriate), and be a sales marketing manager who is more of a role model than a strict, nose-to-the-grindstone supervisor. You'll not only ensure that workers stay for long periods of time, but you'll enjoy your experience as their leader more, too!
You might also like...