Disciplining Your Sales & Marketing Employees the Right Way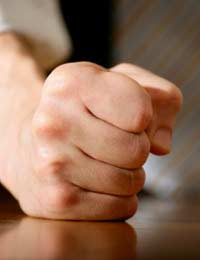 As a sales marketing manager, you can expect to be called upon more than once to discipline subordinates, and (generally speaking) it's unlikely to be an enjoyable experience for either party. Though there are persons who claim to view disciplining others as a challenge or even an opportunity, most supervisors are loathe to have The Talk with employees.
Yet it must be done.
To help you the next time one of your sales or marketing workers makes a misstep or decision that requires disciplinary action (from a simple reprimand to full-fledged firing), we've amassed seven excellent suggestions to help you discipline the right way.
1. Don't React in a "Knee Jerk" Manner to Would-Be Crises
You hear from a client that a sales member made a critical mistake. Do you a) go storming into the sales member's office or cubicle in a rage; or b) arrange a meeting immediately with the sales member to discuss what really happened?
Obviously, "b" is the way to go; after all, if you don't have all the facts, how can you apply any kind of adequate disciplinary measures? Picture yourself as part Sherlock Holmes and "sleuth" your way through the situation rather than allowing yourself to explode.
2. Document Your Employees' Errors from Day One
Every time you have to discipline an employee, write it down. Even if you simply keep a file of memos that include a brief synopsis of what occurred, you'll be in a better position to discipline your subordinates in the future. Having a record will also enable you to let someone in your employ go if the need arises because you'll have evidence of his or her poor choices and past reprimands.
3. When Disciplining, State Only the Facts
There's no reason to yell or cry during a disciplinary discussion with an employee, as it only makes the proceedings that much more difficult. Instead of focusing on the way you're feeling, concentrate on the facts. Explain to your employee why you are concerned, and allow your employee to respond to those facts. If he or she tries to steer the discussion into emotional waters, steer it back to a fact-based conversation.
4. Handle Friendships and Work Relationships Differently
If you earned your title of sales marketing manager by working your way up the corporate ladder, you're likely supervising people who have been your colleagues and friends for quite some time.
Thus, when you have to discipline one of them, you'll need to put aside your personal feelings and relationships. If you cannot, you will lose the respect of the others in your department(s).
5. Don't Allow One Person to Get Away with Something That another Cannot
Playing favourites is something no one likes. From the moment we're children, we resent mummy's obvious favouritism of our siblings and we carry that bent toward resentment into adulthood.
In your role as sales marketing manager, you'll be required to make certain you're not allowing one subordinate to "get away with" something that another cannot. And if you find yourself allowing such behaviour, stop it immediately before it gets too out of control.
6. Be Understanding, But Not a "Pushover"
Sometimes, employees make mistakes, and that's truly okay (not to mention perfectly human!) However, don't allow yourself to become too "soft" and always respond with, "That's okay."
If an employee constantly has excuse after excuse for wrongdoings, it may be that he or she thinks you're somewhat of a "pushover". And you can't afford to have that kind of reputation.
7. Find out How to Discipline Your Employees before Any Problems Occur
Finally, know the rules before you discipline anyone. Ask your personnel director or company human resources representative exactly what your rights are, what the company's preferences are, et cetera, when it comes to taking disciplinary action. That way, you'll know what to do when you need to have a talk with an underachiever or difficult worker.
You might also like...