Is it Time to Find a New Employer?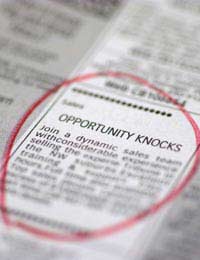 It's a fact of modern work life – most sales marketing managers don't stay with one company forever. Unlike in prior generations, it's the uncommon person who stays with one organisation for years and years. Even knowing this, however, it's still tough for some sales marketing professionals to decide when to move on versus when to "stick it out".
If you've been wondering: "Is it time for me to go?", you may want to take into consideration the following reasons that compel many individuals to find new sales marketing management positions in firms outside of their current employers:
1. The Work is No Longer Challenging
Businesses grow and change at differing rates; consequently, one company may be highly progressive, another may be comfortable maintaining the "status quo" when it comes to sales and marketing projects and expectations. If you begin to feel as if you're not challenged and your employer is unwilling to allow you to explore new sales marketing techniques or ideas, it may be a sign that you need to find another place to work.
2. You Work with "Toxic" Colleagues
There are some people who, quite simply, can take the enjoyment out of an office atmosphere. These persons operate as a sort of infection, draining the enthusiasm from every aspect of the workplace. Should you be employed by or with such individuals (and it's unlikely that they will be leaving any time soon), you may need to seek alternative sales marketing employment just for your mental health.
3. Your Company Is Rumoured to Be in Bad Shape
Sometimes, a rumour is just idle gossip, nothing more. But if you constantly hear that your employer is expected to soon be closing its doors, it's probably time to dust off your curriculum vitae (CV). (Obviously, as a loyal sales marketing manager, you may want to first make certain there isn't anything you can do to help your company, such as instituting a new selling procedure or trying an inventive advertising method.)
4. You've Never Received a Raise but Others Have
If you've been working with your current organisation for over two years and have never received a raise but have been constantly praised for your abilities, it could be an indication that your presence is being taken for granted. This is especially true if your colleagues (especially those in executive positions) have been systematically receiving raises of their own. With that being said, though, you should first ask your direct supervisor to explain why you haven't had any cost-of-living increase in your salary; it may be that the company simply isn't in a position to do this but is willing to give you other "perks" such as more flexibility or extra vacation time as additional compensation.
5. You Have Been Asked to Perform Duties That Are Unacceptable
Every person has his or her own "limit" in terms of what he or she will do or won't do. And if you have been asked to perform duties that you feel either jeopardise your reputation or go against what you firmly believe (or are downright illegal), it's time to head for the door. Chances are very good that an unethical corporation will not change; thus, it's up to you to show your dissatisfaction by finding an employer who will follow principled sales marketing procedures.
You might also like...