Could You Go Self-employed?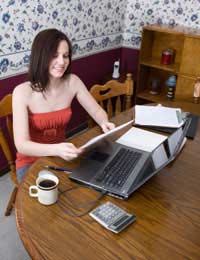 Going self-employed in a sales marketing management position would be a tough call in today's depressed economic climate. But it's far more important to assess whether it's the right choice for you regardless of the economic situation, to avoid making an expensive career mistake.
General Advice About Going Self-Employed
Let's start with some advice about going self-employed in its own right. You obviously need to be confident of your ability not only to do your job but also to be able to find enough work. This means having to do a sales marketing management job on yourself, knowing what your strengths and weaknesses are and marketing them accordingly.
You also need to know that you can either be very organised or pay for someone else to organise you; either way works. You will need to make sure that you are managing your time properly and arranging and keeping to appointments. You also need to manage the administration side of the business. This means keeping books for accounting purposes, maintaining tax and VAT records and performing the statutory duties associated with keeping a company or running a sole trader business.
Again you can pay individuals or companies to do these things for you. They are mostly straightforward but if you are making good money and they are a hassle then they can be outsourced. Note that even if you maintain your own books you will still need an accountant to help file accounts though.
Specifics for Sales Marketing Management
Those are issues that anyone who is considering going self-employed, whether they are in a sales marketing management position or not need to be aware of. The issues that need to be considered for a sales marketing management professional who is considering going from an employed position to being self-employed are mostly concerned around getting suitable positions and ensuring that you have the right frame of mind to make this change.
Being A Specialist
Many sales and marketing professionals go self-employed after a successful career in employed positions. This usually means that they have built up a network of contacts who will be able to refer them or employ them directly. It is likely that a sales marketing professional will have specific industry or market sector experience and this helps when signing up with agencies for contract or consultancy or when advertising their services.
It is much easier to get work if you can be accurately pigeonholed but at the same time this restricts the openings you can apply for. It could mean that you are out on a limb if that market sector begins to have a tough time and opportunities begin to dry up.
It is this kind of tightrope you will have to walk if you are considering going self-employed. There is no right or wrong answer but you need to consider how you will tackle this issue before giving up your day job.
Feast and Famine
Finally on a personal level you need to be able to make sure you can handle the 'feast and famine' that is the inevitable nature of any switch to being self-employed. You will experience periods when you are working around the clock and other when you might wonder where the next job is coming from.
The best thing to do with the light periods is to invest in training. One of the biggest disadvantages to being self-employed is that you have to pay to maintain your training and take time off work to so it too. But it is essential, otherwise you will be overtaken and become less saleable as a result.
You might also like...