Virtual Interviews - Doing Them the Right Way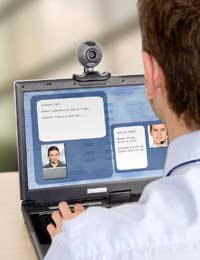 In our busy world of 24/7 Internet access and round-the-clock business activity, it's not unusual to be asked to engage in a virtual interview. Whether via email, videoconferencing or telephone, you have to be prepared if you're going to snag a lucrative sales marketing management position.
Below, we'll look at the three aforementioned types of virtual interviews and how you can shine during each one. By using this "what to do/what not to do" guide, you'll be able to confidently master the art of virtual interviewing every time.
Email and Instant-Messaging Interviews
These are perhaps the toughest of all virtual interviews because you're going to be judged by your on-the-spot answers… and how you punctuate and spell them. For instance, if you slip up and write "your" instead of "you're", you could be out of the running for the sales marketing job.
Therefore, if you are asked to contribute to an interview via email or instant messaging, it's wise to prepare as many answers as you can beforehand. Then, you can copy-and-paste, changing the responses as need be. If your email interview allows you to have time before returning the answers, ask a trusted friend to review them before you send them to your interviewer.
There's a positive side to email and IM interviewing, though – it's rarely done as a single measure of determining a candidate's readiness or ability. However, you have to be organized, just in case you're asked to participate via this method by a sales and marketing employer.
Videoconferencing Interviews
It's very inexpensive to set up a webcam and conduct a videoconference interview, and it's a good way to "see" someone who lives far away. Though you won't be able to measure body language as effectively as if you were in person, you'll get a better understanding of what your interviewer is like than you would during an email discussion or telephone conversation.
If you agree to conduct an interview via this method, you have to be certain that:
a) Your videoconferencing equipment works. Test it out a few times. You can't afford to have it fail on you during the interview!
b) Your Internet connection is stable. If it's not, you could send a negative message through no real fault of your own.
c) Your environment is free from extraneous noises. A bustling coffee shop is not the place to conduct an interview!
Finally, dress for your interview. Don't assume that you shouldn't wear a suit or nice attire; you'll be judged by anything and everything that your camera reveals to your interviewer. (That goes for your background, too, so if you're operating out of your home office, make sure everything is neat and clean behind you.)
Telephone/ Mobile Phone Interviews
Interviewing candidates via telephone is nothing new; it's been used as an acceptable method of weeding out the chafe from the grain for decades. Though you probably won't be offered a sales or marketing management position based solely on a telephone interview, your phone-based interview will help you get one step closer to having a job offer.
As with videoconferencing interviewing, you need to make sure that you're in a calm environment during your interview. If you're at home, be certain that kids (and pets) are occupied. (If need be, pay or ask someone to watch over them or take them to the park.) Also, be aware that mobile telephones, while convenient, sometimes create static or suddenly "go dead". You cannot afford to have this happen during your interview; check reception in various areas of your building before answering the interview call.
By being proactive, you'll be able to go into any sales marketing interview with confidence.
You might also like...