Questions to Ask Potential Sales & Marketing Employers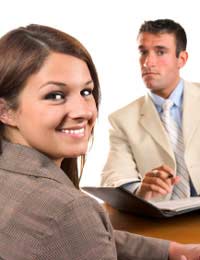 One of the biggest mistakes many sales and marketing job candidates make is being too silent during their discussions with possible employers. Interviewing isn't a one-way street—to make sure it's going to be a good match, you must be prepared with queries of your own.
Below are five great questions to get you started; depending upon your circumstances, you will no doubt want to formulate others and bring them with you to your interview (as a reminder).
1. What role do you want your company's next sales and marketing manager to play? How will it be the same or different from your previous sales and marketing manager?
How your interviewer responds to this question will tell you a great deal about the position. For instance, if he or she answers, "We're going to be completely open to any and all sales and marketing ideas," you'll know that the organisation either a) isn't certain what they want or b) is open for anything.
On the other hand, if the interviewer pushes a pre-written job description in front of you and says, "This is what our sales and marketing manager will do," you'll know that you'll have little leeway in terms of bringing your own ideas to the table if you work for the company.
2. Why did your last sales and marketing manager leave?
Be cautious about asking this question too quickly during the interview. It's probably better to wait until the end since this is a somewhat tricky question and the interviewer is unlikely to be 100% forthright unless the last sales and marketing manager left because of retirement, job relocation or some other "positive" reason. Still, you can glean quite a bit from even a limited response, including whether the sales and marketing supervisor was an individual liked (or disliked) by the company.
3. How long was your last sales and marketing manager in his/her position?
This question goes hand-in-hand with the last one.
Again, you're probably not going to get specifics, but if the interviewer is reluctant to talk about this topic, you might consider that to mean that the last sales and marketing manager was not at his or her post long. (Does that mean the company is flawed? Not necessarily. The previous sales and marketing manager may have been a bad fit.)
4. How many people will the sales and marketing manager supervise?
If you've only supervised a handful of employees at any given time and your interviewer answers, "Twenty-five," you'll immediately have to ask yourself whether you can handle such a task.
Of course, your interviewer could say, "We're not sure—there are positions left unfilled right now," which means that the number of subordinates might be difficult to determine. Push a little bit, though—you should understand what you're getting yourself into by accepting the job (assuming it's offered to you.)
5. What kind of training will you provide for the sales and marketing manager?
Your interviewer should be able to tell you how you'll be taught the logistics of working for the company; if he or she cannot, please consider finding the answer to this query before agreeing to work for the organisation. You need to protect yourself and receive assurance that you'll be given the tools necessary to do your best work.
As always, good luck with all your interviews and never be afraid to ask questions!
SALES MARKETING MANAGEMENT IS FOR SALE.
This website is for sale [more info].
You might also like...