Gaining Loyalty from the Employees at Your New Company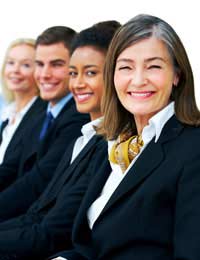 Unless you've been internally promoted to the level of sales and marketing manager, you can expect a transitional period with a new employer. During that time, you'll be learning about the corporation and its people… and they'll be learning about you, too.
Depending upon how seriously you handle your first few months, you'll either wind up with a strong team or a group of dissenters. So it's essential for you to immediately foster loyalty from your colleagues, bosses and subordinates.
Some of the best ways to do so involve more than a modicum of psychic energy; however, the results will be well worth the mental and physical time you invest.
Don't Institute Change on Day One
Too many sales and marketing managers think that they need to "make a splash" on Day One. Unfortunately, that usually leads to anger among their subordinates. Unless you've been hired to do so, try not to rock the proverbial boat. Allow workers to continue their tasks and responsibilities as long as they aren't detrimental to the future of the company and sales/marketing department(s). You can always make changes later.
Meet with Your Employees as a Team
As soon as is reasonable, set up a time to meet with your new employees in one group (or, if the sales and marketing departments are quite large, in two groups.) During this initial get together, talk a bit about the direction of the department and allow the employees to tell you about the company's sales and marketing past and present. Let them know that you're open to hearing their ideas for the future.
Meet with Your Employees One-on-One
After your team meeting, speak with each employee face-to-face. This may take several days or even weeks, but don't leave out any of your subordinates. (Administrative assistants should be included in this process, as they often hold the keys to what's "really" happening in the office.)
Send Regular Emails to Your Staff
During your first few weeks, you may want to update your staff via email of any departmental changes or initiatives. (One note—if the changes are likely to rouse your employees or cause them to worry about the stability of their jobs, mention the changes in person instead.) The emails should be professional; there's no need for emoticons or exclamation points. Save those items for personal correspondence.
If You Must Make Staff Changes, Do So Quickly and Without Apologies
If one of your first moves as sales marketing manager is to let a staff member (or members) go, do so rapidly and without apologising. Don't be secretive about it; let your department know about the staff changes as soon as you're able (and your company executives allow it.) Generally, workers will understand that you did what you had to do, and they'll be glad you weren't deceptive about it.
Initiate Weekly, Biweekly or Monthly Team Meetings
Initiate a weekly, Biweekly or monthly team meeting complete with a pre-set agenda and a definite start/finish time that is not to change except under extreme circumstances. Allow employees to bring up concerns and thoughts and share new concepts during this regular meeting. Many workers have learned to loathe meetings, but that won't happen if you ensure that your meetings have a purpose.
Keep an "Open Door" Policy
Sure, you're new and you need to learn about the company. But that doesn't mean you should cloister yourself in your office from morning until night. Be available to your subordinates so they feel they can come to you with problems or thoughts. Oh, and get up from your desk once in a while and take a departmental stroll (sometimes called "MBWA"—management by walking around). The more visible you can be, the better the chance that the people under you will feel you are someone they can trust.
SALES MARKETING MANAGEMENT IS FOR SALE.
This website is for sale [more info].
You might also like...