The Pro's and Con's of Relocating For a New Job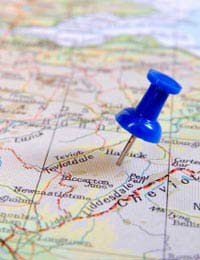 Have you been considering accepting a new sales and marketing management job in a town or country far enough away from your own that you would need to move? If so, you are probably wrestling with some of the same concerns that others in your position have had.
Here, we've outlined several pros and cons to making that leap from your comfort zone (both emotionally and physically) to aid you in determining what your final decision will be:
Pro: Change Can Be Good
Let's face it—if it weren't for change, many of us would never do or try anything new. So tackling a sales marketing manager role with another company in an known-to-you area of the world could be exciting. It could also allow (or force) you to stretch your wings in ways you never dreamed possible.
Con: There's No "Safety Net"
Once you've moved to your new location, it can often be quite difficult (and embarrassing) to move back to your former area if the experience isn't what you expected. For instance, if you discover that your new employer is not as advertised, you may not be able to immediately leave and go back to your old town. Instead, you could be forced to start searching for another job in your new location.
Pro: Moving Can Bring Families Closer Together
While it's true that some families are torn apart by a big move, others are definitely brought together by the experience. Really, it all depends upon the strength and resilience of the relationship between the household members. If you're contemplating a large move, bring every member of your household together and discuss your feelings; that way, each individual (even children) will feel they've had a say.
Con: Your Significant Other May Not Want to Move
If your significant other has his or her own satisfying career in your current town, he or she may not wish to make a move. This is especially true if his or her job offers a significant amount of personal gratification. Many unmarried couples have decided to end romances rather than opt for a "long distance" relationship, so you need to be prepared for that risk.
Pro: Your Company May Pay for Your Move
Many employers are willing to pay for all or a portion of a new sales marketing employee's move, especially if he or she will be in a managerial position. Consequently, your family could have the advantage of relocating without having to spend any savings on the process.
Con: Your Pets May Not Be Welcome
Unfortunately, some countries make it difficult for newcomers to bring their pets with them. If you have a strong bond with your cat or dog, it may be incredibly difficult to say goodbye. (One way to make the parting less sorrowful is to give the cat or dog to a trusted family member or friend; that way, you'll know your four-footed companion is in good company and treated well!)
Pro: A Move Could Dramatically Increase Your Income
Though life shouldn't be all about money, there's nothing wrong with wanting to be paid what you feel you're worth. If you're being offered a sizeable raise to become a sales marketing manager for a new firm, it may be a good reason to start packing your bags! This is especially the case if the employers in your current town are unlikely to offer you any potential for advancement.
Remember that, in the end, only you can make the decision whether or not moving is right for you and your loved ones. No matter what you choose to do, know that you've taken into consideration all the possible pros and cons of the experience.
You might also like...