Ways to Gain Management Experience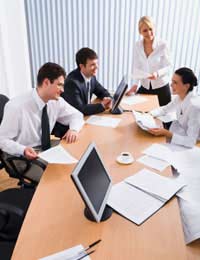 It's nearly impossible to land a sales marketing management position if you've never had any management experience before. Thus, before you submit your curriculum vitae (CV) for any supervisory job, you'll need to boost your leadership expertise.
Below are four of the most direct ways to get you the managerial training you need. Used alone or as part of a combination, they can definitely assist you in becoming a stronger candidate.
1. Ask for Added Responsibilities at Work
If you've been a steady, trustworthy employee and you're ready to tackle more challenges, ask your supervisor for further responsibilities. These can include anything from compiling reports to training a new sales person.
Though your new duties may not be directly managerial in nature, they will get you started on a path to being seen as a leader in your department and company. However, you must be ready to really shine—it's not acceptable to ask for more work and then complete the work in a half-hearted manner.
For example, if you are given the task to coordinate all the sales figures for a monthly sales meeting, go above and beyond. Double-check everything and finish the job by or, preferably, before the deadline.
2. Volunteer to Lead a Group or Event at Work
Is your supervisor or department head looking for someone to lead a group or spearhead a work-related event? Even if it's something as seemingly inconsequential as a holiday party, offer your leadership talents and let your initiative speak for itself.
Remember, though, that you'll need to work with others to show how successfully you can manage a group. That means delegating responsibilities to a team, not handling everything yourself. If you wind up taking over without allowing anyone else to contribute, you'll be seen as someone who is independent and strong-willed but not necessarily a good candidate as a sales marketing manager.
3. Volunteer as a Non-Profit Leader
Most non-profit agencies are in need of leaders to help fulfil their missions. Thus, to obtain management experience, you could always offer to help.
Obviously, you'll need to believe in the goals of the organisation you choose. And you'll also have to accept that many non-profits have limited resources; consequently, you'll be spending a lot of personal time and perhaps even money. Yet your efforts will be worthwhile, especially if you are able to lead a successful fundraiser or pilot a new programme.
4. Start a Side Business and Manage a Team
Believe it or not, starting a side business isn't as tough as you may imagine; plus, it can give you the opportunity to show some management skills.
For instance, if you know of someone who makes handcrafted goods, why not offer to help him or her sell those products during the holiday season? By positioning yourself as an entrepreneur, you'll gain plenty of experience making decisions and solving challenges. And if you're successful, you could even make a bit of extra income for your labour.
You might also like...