Interview Tips for Sales & Marketing Managers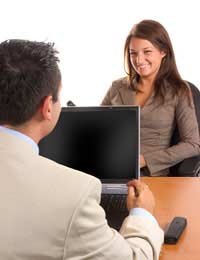 Congratulations! Your covering letter and curriculum vitae (CV) landed you an interview for the sales and marketing management position. Now, it's up to you to make the most out of this potentially lucrative opportunity.
Many people take the interviewing process too lightly, assuming that they can merely "wing it" once face-to-face with an interviewer. However, making that assumption can have neutral (as in "sorry, you're not right for us") or even negative (such as "you're not prepared to be a manager here") consequences.
To assist you in becoming the strongest possible sales marketing management candidate, we've compiled a list of five interview tips. Use some or all to land the sales marketing position you desire!
1. Bring a Portfolio of Your Work with You
The majority of interviewees for sales marketing management jobs show up empty-handed. Don't make that same mistake.
Bring with you anything and everything that shows your abilities in the best light—marketing materials you helped develop, reports you authored (within reason and only those that do not contain confidential items), promotions you spearheaded. The more you have on hand, the better you'll be able to illustrate your readiness for the position.
2. Conduct Research on Your Prospective Employer
In addition to your portfolio items, bring with you a file on the company with whom you're interviewing. Inside the file should be a copy of any sales and marketing materials (these can typically be found online, in papers or even in the reception area of the company itself), a printed copy of the corporate website (include all relevant web pages) and copies of press mentions.
Use these items during your discussion. For instance, you might want to ask your interviewer about the way a particular sales marketing advert was developed. Doing so will make you seem less like an "outsider" and more like someone who is ready to join the team.
3. "Sell" Yourself during Your Interview
You're a sales marketing professional, so don't forget that during your interview!
Being humble but honest, "sell" yourself to your interviewer. This means naturally inserting facts about your skills and accomplishments into the conversation. For example, if the person across the table from you asks about your education, don't simply give him or her the name of the university you attended and the years you were there. Add into your answer the leadership roles, internships and other relevant facts about your school years.
4. Ask Intelligent Questions of Your Interviewer
Come to the job interview with questions written down. Again, most job candidates do not do this. They simply assume they'll remember to ask about "x"; inevitably, they forget.
One note, though—be certain your questions are intelligent and thoughtful. Don't ask something that you should already know (or should have been able to find out by perusing the company's website.)
5. Practice Interviewing
Finally, do what may seem unnatural or even a bit difficult—practice your interview at least twice before you ever reach the meeting. This can be done alone in front of a mirror or, in the best case scenario, with a trusted friend or family member.
Think about the questions the interviewer is likely to ask you and then compose answers that are succinct but thorough. By investing in this kind of planning, you'll be much less likely to experience any moments of awkwardness with your interviewer.
Good luck and may you get a sales marketing management offer soon!
You might also like...