Finding Sales & Marketing Positions Outside the UK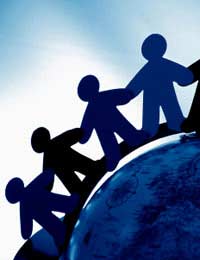 It's not uncommon for sales and marketing professionals to consider taking jobs outside the UK. After all, there are plenty of opportunities abroad in such far-flung places as Asia, South America and Africa as well as locales like central and eastern Europe, Australia and the United States.
If you're considering making a transition from your UK based company to a firm overseas (or even in another European country), your job search should be conducted a bit differently than it would be if you were seeking jobs in the UK.
To help make your leap to a non-UK based position as stress-free as possible, we've listed a few of the most important considerations you need to keep in mind.
1. Pick a Locale (or Locales)
Though it seems a bit romantic to say, "I'll work wherever I need to," it's not always practical, especially if your family will be moving with you. Sit down with a map and ask yourself (or yourselves if others are involved) where you want to work and, more importantly, live. Narrow your search to a few cities or, if appropriate, countries.
(Feeling constricted? You can always broaden your search later.)
2. Research Your Locale(s)
Unless you've lived in your targeted area previously, you will no doubt be unaccustomed to the region. Thus, it's wise to conduct research on the location to which you're considering moving. For instance, what kind of transportation will you use once you're there? How close is it to an airport or train station? Is housing for foreigners easy to find? What is the cost of living? Is there adequate schooling for your children (if applicable)? The more you know, the better.
3. Investigate the Sales Marketing Management Jobs Available in Your Chosen Region/Locale
It's not difficult to pinpoint what kind of sales and marketing management jobs are available in any given area. A simple Google search will provide you with numerous "hits", including those from reputable job search engines and corporate sites. If you can, see how the salaries (if advertised) compare to the cost of living. You may be surprised to find that a move out of the UK may be more… or less… lucrative than you imagined.
4. Contact a Recruitment Firm
Unless you have a very strong contact in the area to which you'd like to move, paying for the services of a recruitment firm could benefit you tremendously. Recruiters who specialise in placing sales marketing management professionals overseas or in foreign countries will be able to guide you to the best job opportunities. Additionally, they'll be able to assist you in "tweaking" your CV (which is often referred to as a "resume" in some countries such as the United States) and negotiating a superior benefits package (such as paid relocation.)
5. Visit Your Prospective Employer
After you begin to attract potential employers, you'll find yourself in an interesting position. Should you accept a job based on a series of telephone interviews? Or should you visit the company before agreeing to become a sales marketing manager there?
Obviously, your choice will be based on a number of factors, including your "risk profile". If your risk profile is low, you'll probably want to visit the employer even though it will cost you time and money to do so. On the other hand, if you're someone who takes risks in life and work, you may be completely satisfied to accept a job outside the UK, pack your bags and move – sight unseen.
The choice is up to you, but one thing is clear – with the global nature of a sales marketing management position, almost anything is possible for the adventurous job seeker.
You might also like...