Why You Aren't Getting Interviews or Job Offers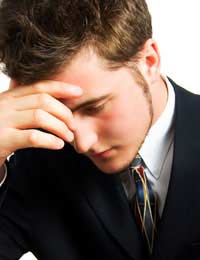 You've finally taken the big step—you're actively seeking employment as a sales and marketing manager. There's one big problem, though… the telephone isn't ringing and your email in-box is empty. When the post arrives, there's no acceptance letter (or even acknowledgement of your application) to greet you.
What's an eager, but discouraged, job applicant to do?
First, know that there could be a variety of reasons that you're not getting interviews or job offers. Secondly, know that in most cases, you can take measures to increase your chances of getting hired.
Below are six possible answers to the age-old question: "Why aren't they interested in me?"
1. Your Covering Letter and CV Are Problematic
For most job candidates, the covering letter and CV (curriculum vitae) are their first "introductions" to a would-be employer. Thus, those papers have to practically gleam with energy, personality, credentials and professionalism. Even if there is one tiny typo in your documents, it's one too many… and it could be costing you those coveted sales marketing management positions.
Go over your CV and covering letter at least twice before ever sending them out again; if possible, ask a friend with an editor's eye (and a ton of candour) to give you feedback as well. Then, make necessary adjustments, corrections, deletions and additions to your covering letter template and CV.
2. You Don't Have the Right Experience for the Job
If you're trying to snag a sales marketing management position and you have no significant sales, marketing or supervisory experience listed on your CV or noted in your covering letter, you're basically sabotaging your efforts.
Instead of continuing to apply to employers who want someone with different credentials than you possess, get yourself some expertise and training. Then you can start the application process anew knowing that you now have better odds.
3. You Need to Work on Your Interviewing Skills
Even if you're an excellent manager, sales person or marketing employee, you may not come across as such during your face-to-face or telephone interviews. Surprisingly, you may not even be aware that you're sending a message that says, "Don't hire me" to prospective employers.
Before your next interview, practice interviewing with a trusted friend, relative or colleague. Ask for honest, constructive criticism and take everything you hear to heart—even if it hurts. For instance, if your interview practice buddy notes that you fidget quite a bit and don't answer questions directly, that's something you need to tackle. We all have "quirks"; work on yours and you just might find yourself signing a contract with a new employer.
4. Your References Aren't As Glowing As You Think
Many times, company representatives ask to speak with a candidate's references before moving forward with the hiring process. Consequently, it's important to know that any references you're using are providing interviewers with glowing reports about your on-the-job abilities and achievements.
Obviously, it's difficult to know exactly what references are saying about you. Yet if you consistently find that you're getting through the interview process, asked to supply names as references and then ultimately turned down without an explanation, you may need to find new professional references to vouch for your abilities.
5. You're Not Applying to As Many Jobs As You Think You Are
Yes, that may sound strange, but it's common for frustrated job seekers to feel as if they aren't getting any offers even if they've only pursued a handful of leads.
It's quite common for some people to send out dozens (sometimes more than one hundred) of CVs during the course of a job search. Depending upon the country's economy and job market, it make take numerous months to ever hear a peep from prospective employers. If you've only tried to land a few jobs, it may just be that you've set your sights unrealistically high and have given in to job search exaggeration (which can easily lead to exasperation!)
6. Your CV and Covering Letter Aren't Being Seen by the Right People
Are you sending a lot of CVs by email? Are you downloading your information to employers by using an online job bank's CV/resume delivery services (such as those available at Monster or HotJobs)? What you may not realise is that if your CV and covering letter do not contain preordained "keywords", they might never be opened by the hiring personnel!
Many large employers effectively "prune" the number of CVs they receive sending them through a "filtering" system. This filter is programmed to discard what the computer deems irrelevant CVs… and that could include yours.
To bypass this possibility, always send your CV and covering letter directly to the employer (unless the company has asked a third party to handle the initial elements of the hiring process.) That way, you'll know that your data has a better opportunity to be seen by human eyes.
You might also like...