Networking Events and the Sales Marketing Manager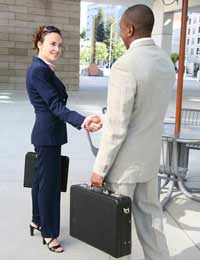 Business networking events are a relatively recent addition to the arsenal of management tools for the professional to draw on in the UK. Events are arranged around geographical locations, market sector specialities or along professional lines. These have the express intent of creating informal groups of people who can work together and do deals together as and when the time comes.
Networking Events in the United Kingdom
The fact that networking has been a key part of other events for many years is not disputed but it's only recently that events have begun to be held purely for networking. This is true of many conferences and exhibitions, it's who you meet rather than the information you gather that makes an event worthwhile.
Perhaps it's the natural reticence of the English to be overt about these things that has prevented them from being popular until now.
Preparation is Vital
Make sure that you prepare for a networking event. If it is a sales marketing management event you will be meeting other like-minded professionals. Are you looking for a new job, or perhaps looking to hire someone to join your team?
If not, then it might not be worth attending, unless it's important to keep your profile high so that you are ready whenever an opportunity presents itself. Perhaps you enjoy presenting to your peers or finding out what they have to say about your profession, which means you'll enjoy these events in their own right.
Rehearse Your 'Elevator Speech'
If you are going to a networking event where you will be meeting all sorts of people, not just sales marketing management professionals, make sure that you have an 'elevator speech' ready. This is a short and pithy statement that you can trot out to the inevitable question: 'so what do you do?'
Rehearse this so that it trips neatly off the tongue and you won't flounder about when meeting new people. Make it relevant to what you can offer to a business too. So rather than 'I'm a sales and marketing manager' you might say 'I help companies sell more.'
Move Around at Networking Events
At networking events don't hang around for too long with any one person unless there is clearly mutual interest in continuing the conversation. It should be acceptable to say 'please excuse me, I'm going to network with some other new people now', once the conversation has run its course.
Think Long Term
You also need to manage expectations of networking events. With some, particularly regional networking groups, don't give up going because you don't get business on the first or second visit. Networking is about building up a profile in an area so that when people do have a business need it's you that they think of.
That could be when you first go to a new networking group, or it could be in the second or third year. One thing is for certain, if you stop going and someone has a need for a sales marketing management professional, it won't be you they think of.
You might also like...