Use Your Sales or Marketing Background as a Volunteer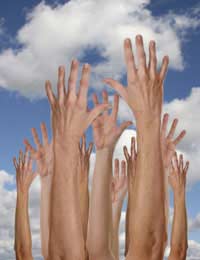 As someone who is completely engaged in the sales and marketing profession, you may not realise how valuable your skills can be to a nonprofit, school or other agency.
Indeed, your selling and advertising experiences could be exactly what are needed to help an organisation thrive. So why not offer your time as a volunteer?
Not only is such volunteerism good for the soul, but it's also good for the curriculum vitae (CV). In an era where many job seekers' credentials seem far-too-similar, yours will stand out if you use your sales and marketing abilities wisely.
Below, we'll explore some of the ways that other sales marketing managers have been able to use their talents to benefit the nonprofits they care about most.
1. Fundraising
Many people have an innate fear of asking others for money or donations; alternatively, other people would like to do so but do not know where to start. As a sales and marketing pro, you can assist with an organisation's fundraising by: a) heading up an annual fundraising drive; and/or b) teaching agency workers how to fundraise strategically.
Caveat: Don't allow yourself to do it all! Even if you CAN fundraise on your own, it doesn't mean you should! Make other volunteers responsible for carrying a portion of the fundraising load, too.
2. Volunteer Management
Many nonprofits and agencies are run by individuals who have a vision and goals but very little hands-on supervisory background. As a sales and marketing manager, you can offer your services by helping organisations (especially start-ups) manage their volunteer base and staff (if applicable).
Additionally, you may want to consider taking on the role of "Volunteer Coordinator" for the nonprofit, especially if it's a group in whose mission you firmly believe.
3. Advertisement Purchasing
Some nonprofits may find it necessary to pay to advertise their annual events (rather than relying on media releases and other low or no cost public announcement measures.) However, most will not have someone at the helm who is savvy in the purchasing of advertising space.
By using your sales marketing expertise, you can assist a nonprofit in negotiating excellent rates as well as garnering excellent placement in newspapers, in newsletters, on billboards, on television, on radio, in magazines, et cetera.
4. General Leadership
If a certain nonprofit really grabs your attention, you may want to offer your services as a member of the board of directors (or whatever the leading body of the organisation is called.) Most organisations are happy to have leaders who are more-than-willing to take on this role, though some of the more popular organisations (or those that have been around a long period of time) do have an established "waiting list" of board members.
Again, it depends upon the agency's rules, but it's worth asking about the possibility, especially if you're impressed by the mission of the nonprofit.
5. Public Relations
Your sales and marketing experiences may have included public relations; if so, you could definitely be a boon to any nonprofit looking to get the word out about its undertakings. From writing media releases to picking the proper venues in which to have the organisation involved, you can help steer the "ship" into prosperous waters!
You might also like...