Getting the Best from Networking Events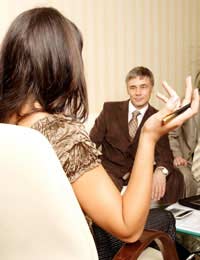 Networking events are much more common in the United Kingdom than they were a few years ago and they can turn up all sorts of opportunities for the sales marketing management professional. Networking has always been an important part of events such as conferences and exhibitions but it's only relatively recently that events have been arranged purely for networking.
Regional and Sector Related Events
Networking events that are purely for sales marketing management people are outside the scope of this article. They are covered in an article in the 'Outside the Job' section of this site.
This article focuses on networking events that are either regional or sector related. Regional events will have people from all walks of life and all sorts of different businesses attending.
Sector related networking events will have attendees from one market or business sector but all sorts of disciplines will be represented, with sales and marketing people rubbing shoulders with executives from finance, customer service, buying departments and the like.
Preparation for all Networking Events
Regardless of whether the event is regional or sector related good preparation is vital for a success. It is important to practise and rehearse a short, snappy pitch that you can give to people that describes who you are and what benefits you can bring to a company.
You also need to have all the relevant information about your company at your fingertips. Be prepared to reel off details of successful marketing campaigns or sales figures you have achieved for your company (or your client, if you offer sales marketing management services to other companies).
Regional Events
The benefit of attending a regional networking event is to find new business or services in your area. Note that it's not just work for you or your company, you could find better or cheaper local suppliers for services you need on a regular basis such as printers, designers or copywriters.
Of course, finding new clients is the main reason for attending regional networking events but don't expect it to happen too quickly. The point of regional events is to create an informal group of businesses who will know what each other can deliver.
When the time is right they are more likely to turn to someone in the group for services. Local businesses prefer to support other local businesses so bear in mind that many of the businesses represented at regional events will be small, rather than national or international companies.
Sector Related Networking Events
These events pull together people from all functions but within one market sector and are often added onto national conferences or exhibitions. If you are, for example, a sales marketing manager working in the materials technology sector, then an event like this will enable you to find out what other materials technology companies are getting up to.
You can use this information to find products that could fill gaps in your company's portfolio or discover what performance factors other competitor companies are pushing in their marketing collateral. The contacts that you make at an event like this can lead to long and fruitful collaborations.
Bide Your Time
It cannot be stressed more that you need to prepare and be patient. Always carry business cards and have leaflets and brochures available, if appropriate. Keep attending events as long as you think there will be an advantage but bear in mind that advantage may arrive on the first visit, the second, or the thirty-first, no-one can tell.
You might also like...