Recommended Training and Schooling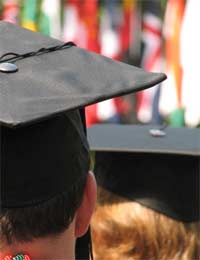 The schooling necessary for individuals to receive offers of employment in the field of sales marketing management absolutely vary by industry. However, that doesn't mean that you can simply walk into such a position "cold".
If you're desirous of working your way up the corporate ladder to a position as a sales marketing manager, you would be well advised to have some (if not all) of the following credentials and training on your curriculum vitae (CV).
University Degree
Generally speaking, unless supervisors have "worked their way through the company", they will be hired based on their business knowledge. A higher education degree, therefore, is the perfect indication that a candidate is prepared to handle the many demands and responsibilities associated with becoming a sales marketing manager.
Yes, there are sales and marketing leaders without formal university training, but their numbers are decreasing as more and more persons in the job market are holding degrees. Even if you can only afford to attend university part-time or online (which may require many years of commitment), doing so will be a practical investment in your future sales marketing career.
Industry Training
Though it's possible for an individual to become a sales marketing manager in an industry about which he or she doesn't know very much, it's not a likely scenario. Consequently, it's recommended that you become proficient in your chosen (or target) industry.
For example, you may want to take a few courses (credit or non-credit) in accounting, banking or investments if you want to become a sales marketing manager at a finance-related firm. You may also choose to avail yourself of certifications that your industry requires or recommends such as those offered by the prevailing association that covers your industry.
Foreign Language Training
The world is a "smaller" place than it was a generation ago. Not literally, of course, but figuratively speaking thanks to the Internet. This means many sales marketing managers will find themselves in a position to market and sell to people who speak a wide variety of languages.
You don't have to get your foreign language skills at a "brick-and-mortal" school. In fact, some very reputable companies offer CDs, videos and even Internet-based downloads to help you become proficient in a language other than your native tongue. Certainly, this type of training isn't absolutely essential, but it may differentiate you from another sales marketing management candidate who has similar credentials.
Sales and Marketing Training
Finally, it's nearly impossible to become a sales marketing manager without some kind of on-the-job sales and marketing training. Attending sales conferences, marketing seminars and management lectures will be invaluable.
(Side note: Don't be afraid to add the training courses you've attended to your cover letter and/or CV.)
If you can't seem to find any conferences, you may instead be able to obtain an internship handling sales and/or marketing work for a company (especially those with severely limited funds, as is the case with many non-profits.) Even if you only volunteer your time for a few hours per week, you'll get a much stronger understanding of the ins and outs of the sales and marketing world.
You might also like...