Sales Marketing Management: an Overview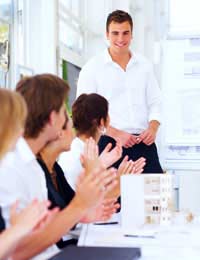 Sales marketing management may sound like a far-too-challenging career path to persons who find interacting with others difficult. But if you have a desire to motivate others mixed with a full-speed-ahead attitude, you can do extremely well as a sales marketing manager.
In fact, positions in the sales marketing industry tend to offer lucrative salaries to those who excel. Many even provide regular travel to exciting and beautiful locales for meetings or conferences.
However, an individual cannot become a sales marketing manager overnight (unless you open your own company); instead, he or she must climb the proverbial "ladder", as at least two years of on-the-job training is generally required by employers.
Sales Marketing Management – What is it?
To understand sales marketing management, it's important to grasp what "sales" and "marketing" are. "Sales" is the method used to encourage individuals and businesses to purchase goods or services; "marketing" is the way that those goods or services are introduced to persons or companies.
For instance, if a potential customer sees an advertisement for a new brand of shoe polish, he has essentially been exposed to the polish through marketing (i.e., the shoe polish ad.) If he then purchases that brand of shoe polish, he has completed the sales process (i.e., paying money for the polish.)
Although marketing and sales work in tandem, businesses do not always have one sales/marketing department. In fact, sales and marketing departments may be housed in different headquarters (or, in the case of "virtual" companies, they may be housed in different countries.) Ideally, though, they should operate together.
Thus, a strong sales marketing manager must have foreknowledge of and experience in both sales and marketing. He or she must also have more than minimal experience in the art and science of supervision, as being a manager will require an understanding of how to empower, train, encourage and discipline subordinates.
Sales Marketing Management – What's a Day Like?
Sales marketing management positions are found worldwide and opportunities abound in every field from glue manufacturing to tourist promotion agencies.
Though the specific job requirements of a sales marketing manager will differ depending upon the sector in which he or she works, common requirements are usually asked of sales marketing management candidates. These include:
a degree or many years of appropriate training;
the ability to work with others as well as work independently;
expertise and excellence in marketing and selling products and/or services;
a proven record of problem-solving abilities;
a positive attitude;
basic accounting knowledge; and
a high degree of professionalism.
Some sales marketing management position openings will also ask for telesales, telemarketing and e-marketing know-how as well as technical proficiency.
Sales Marketing Management – What Can I Expect Salary-Wise?
In the United Kingdom, those who snag sales marketing manager jobs are usually well-rewarded for their efforts.
The average starting salaries of UK sales marketing managers range from 30-40,000 pounds annually and may be enhanced by monthly, quarterly and/or yearly commissions and bonuses. In addition, benefits and perks are sometimes included as part of employment packages, especially if the employer is intent upon wooing top-notch sales marketing management candidates.
Sales Marketing Management – Your Dream Job?
Is a career in sales marketing management perfect for you? If you love a challenge and thrive in a fast-paced atmosphere where every day brings the opportunity to creatively provide solutions for colleagues and customers, then the answer could be "yes".
You might also like...