Personality Types for Sales and Marketing Management Roles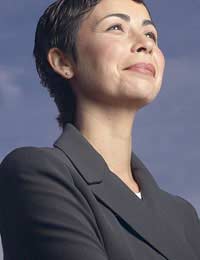 Sales marketing managers vary from company to company as well as industry to industry. However, the most successful among them are those people who embody a few specific personality types.
If you're considering a role as a sales marketing manager, ask yourself whether some or all of the following traits describe you. Though being blessed with them isn't a guarantee that you'll snag every sales marketing position that comes your way, know that they are still strong indicators that you're choosing a career path that is likely to suit you.
Personality Traits
Optimism
—Are you the type of person who lets him- or herself become overwhelmed by pessimism? Do you forever see the glass as "half empty" as opposed to "half full"? If so, sales marketing management may not be a great choice. Sales and marketing gurus are characterised by their ability to remain positive, even in the toughest of times. This positivity enables them to keep up a great attitude, an asset to any sales or marketing leader and his or her team.
Creativity—On a regular basis, sales and marketing executives need to be able to creatively solve problems. Unfortunately, someone who does not have the gift of innovation may have difficulty conjuring interesting, new solutions. Never fear, though; creativity is one area that can be honed. If you're not naturally creative, you can become so by proactively finding ways to use your imagination. Start with crossword puzzles which can help you focus on uncovering answers.
Motivation—Not only does a sales marketing manager need to have self-motivation, but he or she also needs to be able to motivate others. Though motivation can be learned and taught, it takes a great deal of effort for people who are not able to encourage others.
"People" Skills—A sales marketing manager has to work with many different kinds of individuals, so "people" skills are essential. This means being able to connect with colleagues, subordinates and clients in a way that's real. Generally speaking, you probably know if you have "people" skills because those around you will tend to follow your lead, even when it's not expected.
Desire for and Commitment to Lifelong Learning—The sales marketing leader needs to be educating him- or herself all the time. Industries change rapidly, and sales and marketing professionals need to move with their markets. If you don't love attending conferences, reading books or collecting credentials, you may have difficulty snagging an executive position in the field of sales marketing.
Techno-Savvy—The world moves at the speed of the Internet, and strong sales marketing managers need to be able to do so as well. To excel as a supervisor, you not only need to know the terms Google, MySpace, Facebook and SEO (search engine optimisation), but you need to understand how they fit into your company's future.
Determination—Above all else, anyone pursuing a position as a sales employee (even if he or she is not in a supervisory capacity) needs to have more than a measure of determination. Sales is about overcoming objections from prospects and handling tough client situations, often on a daily basis. Consequently, being strong-minded will allow a sales marketing manager to weather the tough days.
You might also like...