Sales and Marketing in a Company: Interview With MD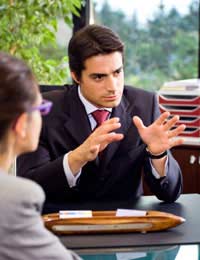 Many startup companies rely on the founder of the company for the sales and management functions in the initial phases. This is particularly true if they start off as one-person companies, as opposed to having large capital injections and putting senior and support staff in place at the outset.
Sales Marketing in a Startup Context
Starting a business this way is not a problem at all. The founder is usually the best person to sell and market the product as they are the person who knows what the company is trying to sell and how to represent it to potential customers. And the majority of senior executives in established companies come from a sales marketing or finance background.
But what happens if the founder of a company is a natural entrepreneur but doesn't have the experience to perform a sales marketing role as the company expands? We spoke to Danny Briar*, a sales marketing trainer who has recently taken charge of sales marketing at a company that was struggling to get to the next stage.
The Product and Service
"The company has a unique product to offer that covers companies in a health and safety area," Danny told us. "I'm afraid I can't tell you exactly what it is as we are going to be launching the marketing campaign in a few months time and I don't want to jeopardise that."
"But I can tell you it's in an area where companies used to be able to protect themselves, in law, with help from a government body," he said, "and that's no longer possible under the new legislative framework. So although companies still need to show they're covered under this particular area of health and safety but they can't use the service they used to."
Won't other companies be filling this gap though? "Yes," agreed Danny, "but we've used technology to make sure that companies can keep up with the documentation and processes they need to prove they have done in order to avoid liability in the case of any incident. At the moment we're the only people doing that and that will be our USP (unique selling point)."
Franchise Model
The sales management activity covers two distinct areas. The first is the positioning and advertising of the product and service itself and the second is selling the concept to potential partners, as the idea is to use franchising to expand throughout the UK from the Berkshire base.
"The head office also covers the immediate area so we are promoting the service directly here," said Danny. "It also means that we can find out what sales marketing tactics work for our region and then roll those results out to our franchisees."
"We would only allow a franchisee to operate in this area once we felt that there was too much work for the head office to cope with. Or the founder retires!" he laughed.
"While we expect franchisees to cover their own sales and marketing we will provide a lot of core material as part of the fee the franchisees pay us," said Danny. "We also need to make sure that franchisees conform to our guidelines and are selling and marketing the service in the right way, otherwise they could damage the core brand."
Practical Issues
This is a tough order and as there are only five people in the company at the moment, everyone is expected to muck in and do whatever's necessary. Although this is typical in a new business it makes it hard for Danny, particularly as he is only working one or two days a week.
"I find it hard if we agree lots of actions one week and when I get there the next week hardly any of it's done," said Danny, "but I understand that the realities of business sometimes get in the way."
"The really tricky thing is trying to get the founder not to change the decision we've made, it's really hard for him to get out of the habit of taking sales and marketing decisions on his own!"
* names have been changed
You might also like...